Getting Here
BOOKING YOUR FLIGHTS OR CHARTERS TO SALT CAY.
Once you arrive in Providenciales, you will connect with an inter-island flight. There is no boat travel between Providenciales and Salt Cay. Make sure your international flight arrives early enough to allow you to deal with immigration, customs and retrieving your luggage. Allow at least 1.5 hours December through March. There is only one airline that flies to Salt Cay—Caicos Express Airway (https://www.turksandcaicosflights.com/). They offer 3 flights a week. One on Monday afternoon and one morning and one afternoon flight on Fridays, though that is subject to change.
Because of the contract Caicos Express has with the Turks & Caicos government, dates far in the future may not be available for reservations. If you try for a later date you will be informed that flights are unavailable. Don't worry! There will be flights, they just won't become available until the contract renews or another airline gets the contract. In either case, if you reserve diving, whale watching or other activities with us, we'll let you know as soon as flights become available.
If you're part of a larger group (five or more) you may wish to consider chartering
your own flight, which will come and go as you please. Both interCaribbean Airways and Caicos Express Airways (http://www.caicosexpress.com/) offer charter service.
Another possible option is to fly into Grand Turk, which has multiple flights every day provided by both local airlines. Then you can take the Salt Cay Ferry from Grand Turk to Salt Cay (visit for trip schedule). However, there is always a chance that the weather will prohibit the ferry from running. If the ferry is not available, Salt Cay Divers can be chartered to take guests from Grand Turk to Salt Cay or from Salt Cay back to Grand Turk.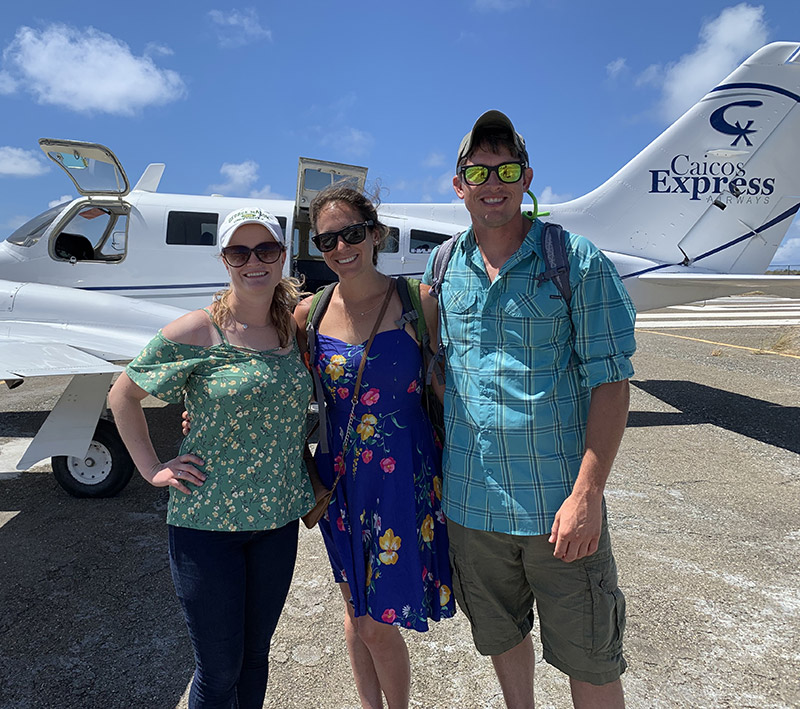 Travel by Boat
Charter boats are available to and from Grand Turk to the island of Salt Cay. Contact us for details.
There is no charter boat or ferry service from Providenciales to Salt Cay.
Contact Us
Salt Cay Divers
Deane's Dock, Salt Cay North District
Turks and Caicos, TKCA1ZZ
1-888-DIVETCI or 1-888-348-3824
Dive Shop: 1-649-245-1063
Monday - Sunday
7 A.M. - 5 P.M.